Introducing Digital Scholarship Services: New Website and Consultation Service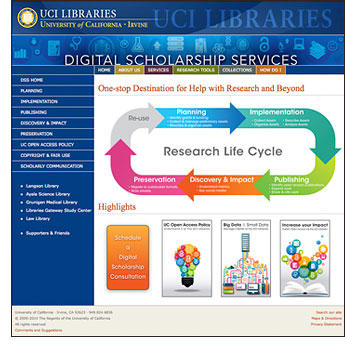 The Libraries' new Digital Scholarship Services site is designed to be UCI faculty's one-stop destination for help with research and beyond. Scholarship in the digital age encompasses much more than the core work of research and publishing. Details vary by discipline but the general process is the same: research output and publications must be carefully managed, described, shared, tracked and preserved. All of these activities "surrounding" research together constitute the research life cycle, and are increasingly being required by both grant-funding agencies and research institutions.

Some of the tasks involved in meeting these requirements, such as creating an effective data management plan or complying with copyright and open-access policies, can quickly overwhelm the busy researcher. The Digital Scholarship Services site provides a wide variety of services and tools organized under the high-level steps of planning, implementation, publishing, discovery/impact, and preservation. The Digital Scholarship Services have been carefully developed to help faculty manage their research and fulfill grant compliance requirements as responsibly and efficiently as possible.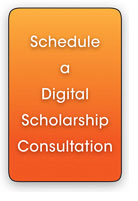 But that's not all: the Libraries have also unveiled a Digital Scholarship Consultation system to offer personalized assistance for all Digital Scholarship Services. Any UCI faculty member who wants to
See how Digital Scholarship Services can improve their unique research workflow
Learn more about any or all of the Digital Scholarship Services offered
Address a digital research need not covered on the Digital Scholarship Services site
can schedule a Digital Services Consultation via an easy-to-use
webform
. The form auto-populates with a researcher's name and contact info; all that remains is to briefly describe the desired consultation topic, pick a meeting place (at one of the libraries or another campus location) and suggest three possible appointment times. A Digital Scholarship Services liaison will then contact the faculty member within 48 hours to confirm the details of the consultation.
Let the Libraries' Digital Scholarship Services assist you in effectively navigating the entire research life cycle, so that you can get back to what really matters: the research. Schedule a consultation today!
For further information, please contact Dana Peterman, Head of Collection Development (x40607 or dpeterma@uci.edu).