Libraries Build Out Southeast Asian Archive Reading Room and Center for Regional History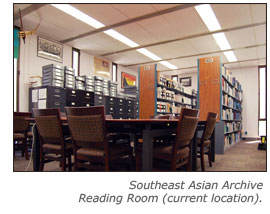 The UCI Libraries provides both physical and virtual spaces for intellectual discovery and innovative research for our faculty and students and the community at large. As an integral part of the Libraries, Special Collections and Archives continues to grow in its important charge to collect and preserve regional history that remains of great value to researchers exploring the rich, diverse, and dynamic landscape of Orange County and its communities. A leading special collection on immigrants and refugees from Cambodia, Laos and Vietnam, unmatched by any other institution, the Southeast Asian Archive (SEAA) has become a destination for researchers from all over the world.

This region is home to some of the largest diasporic Southeast Asian communities approaching their 40th anniversary of migration and resettlement. Since 1987, the Libraries has been documenting and preserving their histories. The expansion of SEAA into a new Southeast Asian Archive Reading Room and Center for Regional History will build out the collections to serve scholars and the communities they represent. The new space is in a prime location facing Aldrich Park on the first floor of Gateway Study Center and will house SEAA circulating and reference holdings along with regional history resources. Archival and rare materials will remain in Special Collections in Langson Library.
A unifying theme of the Southeast Asian Archive Reading Room and Center for Regional History is diversity. The Center and Reading Room will provide a collaborative space with services and resources to guide users seeking to document and study the history of the Orange County area and its changing demographics. Researchers come to the UCI Libraries seeking historical information on events, groups, and individuals, as well as tools for creating new sources of information. The Center for Regional History seeks to become an incubator for digital scholarship, data analysis, digital humanities, video and oral histories, and other interdisciplinary projects based on our region. Our regional history services will bridge UC Irvine's strengths in scholarly inquiry with new directions in community engagement.
For further information, please contact Thuy Vo Dang, Archivist, Southeast Asian Archive & Regional History (x41878 or thuy.vodang@uci.edu).