Your Students Can Now Practice What They Speak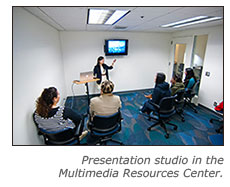 Are your students required to give a presentation in class? Will they be giving a talk at a conference or interviewing for a job? If so, the Libraries can help!

Thanks to donor funds--UCI affiliates who want to rehearse a presentation or develop oral presentation skills can now use the Libraries' Presentation Studio available in the Multimedia Resources Center at the Ayala Science Library.

The studio is equipped with:
State of the art 27 inch iMac loaded with the latest business productivity and multimedia presentation software from Apple, Adobe, and Logitech
Large Sony® HD Presentation LCD Panel Display
Kensington® Presenter Pro Remote™
Wireless Logitech® ceiling mounted Webcam
Speaker's Laptop Lectern
Chairs for a small audience of up to 10 people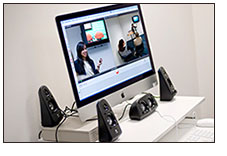 Students can record their presentation for playback and/or editing as well as invite others to watch and provide them with feedback. The Studio can be reserved online in one hour increments. For more information please the services page.
For further information about the Libraries' Presentation Studio, please contact Kristine Ferry, Head of Access Services (x40474 or kferry@uci.edu).