New Swan Shakespeare Festival Seminars Presented @ the Libraries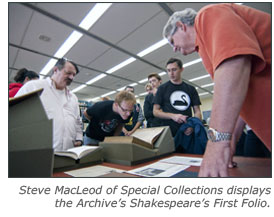 The UCI Libraries held Noontime Shakespeare Seminars on August 13 and 20. Julia Lupton, UCI Professor of English, presented on Romeo and Juliet and Twelfth Night in Langson Library's Caroline A. Laudati Conference Room.

During the seminars, guests explored Shakespeare's dramatic poetry, viewed early printings of the author's plays, and toured the New Swan Shakespeare Theater. In addition, guests visited the Special Collections and Archives Reading Room to view a selection of the Libraries' Shakespeare material. On display was a facsimile of Shakespeare's First Folio, Romeo and Juliet, Twelfth Night, and several other plays.
Also on display were pieces from the Robert Cohen collection. Robert Cohen is UCI's Claire Trevor Professor of Drama and founding chair of UCI's Drama Department. The collection spans his career at UCI and documents his work as a director for theater productions at UCI and the Utah and Colorado Shakespeare Festivals.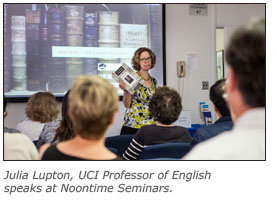 Julia Reinhard Lupton is an esteemed Shakespearean scholar. She was named a Chancellor's Fellow at UCI in 2007 for her contributions to Shakespeare studies. In 2014, she was elected Trustee of the Shakespeare Association of America. Recent scholarly books include Thinking with Shakespeare: Essays on Politics and Life and Citizen-Saints: Shakespeare and Political Theology. She is the recipient of the 2013-14 Guggenheim Fellowship which supports her current book project, "Shakespeare Dwelling: Habitation, Hospitality, Design."
These seminars were co-sponsored by the Libraries, UCI's School of Humanities, and the New Swan Shakespeare Festival.
For information on the archival materials presented, please contact Audra Yun (x42263 or audra.yun@uci.edu). For more on these events, please contact the Library External Relations Office (x44651 or partners@uci.edu).