New Tools to Manage Your Research Data: EZID and DataUp
The Libraries recently rolled out two additional California Digital Library services from the University of California Curation Center (UC3) to help you manage data-based research.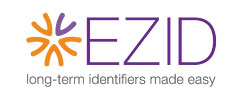 EZID is a service that provides digital object identifiers (DOIs) for online articles, research data, computerized files and other digital objects to facilitate ultimate online access. It also makes it potentially easier to get your research product cited. This service is free to UCI users, under the terms of the Libraries' campus-wide license.


DataUp was created by UC3 with the collaboration of Microsoft®. DataUp is a free, open-source, add-in to Excel that will parse your .xlsx or .csv files to ensure best practices in data management. DataUp also guides you in creating standard metadata. Additionally, once submitted, the spreadsheet is then archived online for data sharing with other researchers and the public. This service is freely available to all users: http://dataup.cdlib.org.
Both tools are detailed in the Research Data Management subject guide that helps researchers find similar data management tools and locate potential, discipline-based repositories for research data: http://libguides.lib.uci.edu/datamanagement.
For more information, contact Daniel C. Tsang, Data Librarian (x44978 or dtsang@uci.edu).