Libraries Partner with Writing Center for Student Success
UCI librarians partner with faculty in a multitude of ways to enhance student learning. In this issue, we hear from Cathy Palmer, the Libraries' Head of Education and Outreach, and Jonathan Alexander, Professor of English and Campus Writing Coordinator, about their long-term, successful partnership to strengthen the information literacy and writing skills of our undergraduate students.
Describe the collaboration between the Libraries and the Writing Center. When did it start and what are shared goals?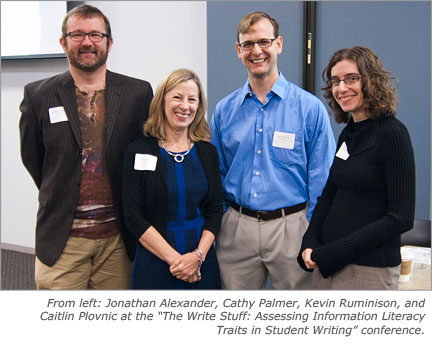 Palmer: The Libraries have had a curriculum-integrated presence in the courses that fulfill the lower-division writing requirement since the 1980's. We work closely with the Writing 39, Humanities Core Course, and First-Year Integrated Program (FIP) directors to ensure that undergraduate students learn the information literacy skills they need to successfully complete their research-oriented writing assignments.

When the Campus Writing Center was created in 2001, the Libraries realized this was a great opportunity to further strengthen our relationships with those responsible for designing and teaching the lower-division writing curriculum. Since both the Libraries and the Writing programs are dedicated to ongoing assessment and improvement, our collaboration facilitates the communication necessary to leverage each other's strengths, which results in better learning by our students.
Describe a few programs that you have worked on together and the outcome.
Palmer and Alexander: Our first successful partnership resulted in the creation of the Writing and Library Research Peer Tutor program in 2005. The program consists of undergraduate paid peer writing tutors who participate in a training program facilitated by both a writing and tutoring professional, and a professional librarian. The peer tutors offer drop-in tutoring in both Langson and Ayala Libraries and in the first-year residential communities where they are be available to help students improve their writing and/or library research skills.

When Jonathan was appointed the Campus Writing Coordinator in 2007, he embarked on an ambitious assessment of student writing across the curriculum. Cathy was inspired by his efforts, and we partnered to create our First Year Student Information Literacy Assessment. The IL Assessment study, conducted in 2010-11, resulted in a detailed rubric that librarians can use to determine the presence and quality of information literacy traits in student writing.
From the Libraries perspective, how has working with the Writing Center enhanced the services we provide to students?
"Students benefit when the information literacy instruction provided by librarians aligns with and supports the learning outcomes of their writing courses"
Palmer
: Working with the Jonathan and the Writing Center, which opened in 2012, gives the Libraries a much broader insight into the student writing experience. Unlike faculty, we rarely get to see the results of our instruction. Our partnership allows us to see how students use the research skills we teach, where they struggle, and what they learn from us. We can make modifications and improvements to our instruction based on that information.
From the Writing Center's perspective, how has working with the Libraries enhanced the services you provide?
Alexander: Cathy's information literacy assessment projects have helped corroborate some of our own assessment findings, particularly about students' challenges with "source integration," or the careful and considered use of quoted material and data in their writing. Our partnership helps us identify areas of challenge that students face, and to collaborate with instructors on designing better curricula. We have presented our findings to a variety of different audiences, both on campus and at national conferences.

For instance, in December 2013, we co-hosted "The 'Write' Stuff: Assessing Information Literacy Traits in Student Writing," which attracted 50 librarians from community colleges, universities, and high schools across southern California. And in March we served as keynote speakers at the 2014 Southern California Writing Centers Association Tutors Conference at UCI. The program brought together approximately 200 students and professionals from colleges and universities across the southern California region to discuss current practices and areas of future development in tutoring, writing centers, and writing programs.
How have students benefited from this collaboration?
Palmer: Students benefit when the information literacy instruction provided by librarians aligns with and supports the learning outcomes of their writing courses. Based on our knowledge of student's needs, the Libraries can design other services, like individual research consultations, that support student success in all of their course work.
For further information, please contact Cathy Palmer, Head of Outreach and Education (x44972 or cpalmer@uci.edu).