Winners of Libraries' Student Video Contest Announced
The Libraries are pleased to announce the winners of their annual Student Video Contest. Andrew Vong has won the Judge's Award with his video, "MyNeighborFrancisco." and Horacio Ruiz won the Audience Award for "Benefits of Studying in the Library". The winning videos can be viewed at https://www.lib.uci.edu/videocontest/winners.html.
Now in its third year, the contest invites students to make a short video in response to the prompt, "Think you're smart? Show new students something about the UCI Libraries that will help them succeed. Highlight the UCI Libraries with a two minute video about our collections, services, spaces, equipment, or anything else that will help a new student use the Libraries."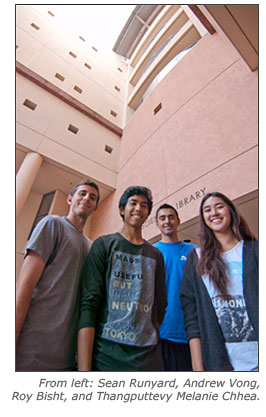 A senior majoring in Social Ecology, Andrew Vong collaborated on the video with Sabina Nussipov, Thangputtevy Melanie Chhea, Sean Runyard, Spencer Perry, and Roy Bisht. The judges were especially impressed with the video's creativity and humor in using reality television techniques to demonstrate how the UCI Libraries help students in their research and studies.

Vong entered the contest because "…I thought it'd be nice to show our appreciation for the learning centers we came to know so well." The video portrays students speaking directly to the camera and talking about "Frank" (a subtle reference to the Francisco Ayala Science Library) as if he's a real person who helps them find a place to relax, to study, and to find answers to homework questions. Asked if there was anything he couldn't fit into the video, Andrew said "I really wanted to highlight the services and resources provided by the Multimedia Resource Center and the Center for Excellence in Writing and Communication because they have aided me so much in the past."
For more information, please contact Cynthia Johnson, Head, Reference and the Grunigen Medical Library (x40081 or cynthiaj@uci.edu).