Treasures from Special Collections and Archives
A mark of distinction for the UCI Libraries is the range and quality of materials preserved in its Special Collections & Archives. In this edition we highlight two unique unpublished manuscripts in our collections: the Alexander W. Chase Overland Journal and the score of Duke Ellington's only opera "Queenie Pie."
Alexander W. Chase Overland Journal

This illustrated holograph journal documents Alexander W. Chase's (1843-1888) family's overland journey from Iowa to California by covered wagon from May to August 1861. Born in 1843, Alexander Wells Chase was 18 years old when he made the journey across the Great Plains with his family.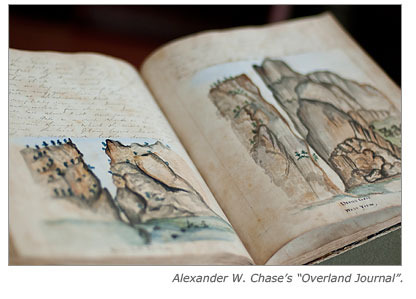 As a first-hand account of a pioneer journey over the Great Plains in mid-nineteenth-century America, the journal provides both textual and visual documentation on the landscape, wildlife, and Native American population of this time period. The striking illustrations in the journal include both pencil sketches and watercolors. An informal transcription of the journal produced by UCI staff is available for consultation.
Geographic features described in the journal include the Platte River, Black Hills, Rocky Mountains, Sweetwater Mountains, Castle Rock, Fort Laramie, American Falls, Snake River, Blackfoot River, Soda Lakes, Carson River, Humboldt River, and the Humboldt Mountains. The author also describes encounters with local wildlife, flora and fauna of the Great Plains, The family's encounters with Native American tribes such as the Pawnee, Sioux, Cheyenne, Shoshone, and Digger Indians are also documented.
Duke Ellington's only opera "Queenie Pie"

Special Collections and Archives has a little known and rarely performed score of Duke Ellington's only opera Queenie Pie.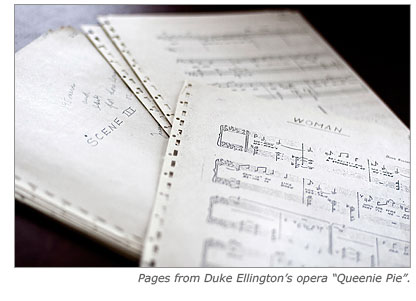 Ellington began work on the composition he called a "street opera" in 1962. He had just received a commission from a public television station in New York for an hour-long broadcast. The broadcast didn't materialize, and in 1971 Ellington decided to expand the effort into a full-length production. He worked closely with librettist Betty McGettigan until Ellington's death in 1974, but the work remained unfinished. Various versions of Queenie Pie have been produced in the 1980s and 1990s, but the scores weren't preserved.
In 2007, musician Marc Bolin began to track down the pieces of the story and discovered the UCI Libraries' Special Collections and Archives had an 87-page score titled "Queenie Pie: An Opera Buffa in Seven Scenes," located in the Donald McKayle Papers. McKayle was doing research for his Tony-nominated Broadway hit "Sophisticated Ladies," based on the life and writings of Duke Ellington. Bolin used these pieces to complete his version of the orchestral composition and his version was used in a 2008 production by the Oakland Opera Theater and in 2009 at the University of Texas at Austin. To great acclaim, the Long Beach Opera and the Chicago Opera Theater have recently staged the latest productions of Queenie Pie in 2014.
For further information about these fascinating archival materials, please contact Steve MacLeod, Special Collections and Archives Public Services Librarian (x44967 or smacleod@uci.edu).