Libraries Expand Subscription to JoVE
JoVE, the Journal of Visualized Experiments (http://www.jove.com/) is the first peer reviewed scientific video journal devoted to publishing scientific research in a visual format. The Libraries recently expanded our subscription to JoVE to include all of its nine journal sections.
As a result, the UCI campus community can now access thousands of articles from top research institutions around the world that are dynamically sharing their research methods, data analyses and results clearly, accurately and professionally with the expertise of JoVE's professional videographers.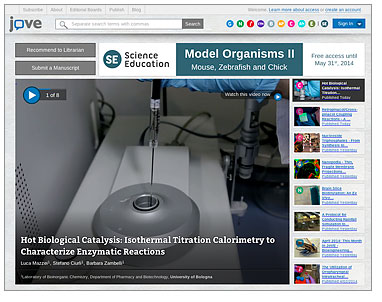 Launched in 2006, JoVE began with general biological life sciences coverage and today has expanded to nine independent journal sections that cover each of the following subjects and scopes: General, Applied Physics, Behavior, Bio-Engineering, Chemistry, Clinical and Translational Medicine, Environment, Immunology and Infection, and Neuroscience.

Until JoVE, video had been supplemental content in journal articles. Now it is the main emphasis with video formats a growing central operative in scientific publishing. The refereed process enhances and validates the content compared to individually posted film clips and video on platforms such as YouTube.
JoVE accepts articles based on scientific validity and degree of usefulness to the scientific community with an emphasis on the ability to effectively provide detailed information on how to perform a particular research procedure. Currently 99 articles from UCI authors are part of JoVE, with several more accepted and slated for filming in coming months.
An important aspect of this new resource is that the video and images can also be used in the classroom as teaching elements to amplify lectures with specific examples. Students can develop a deep understanding of laboratory techniques and etiquette in the biological and physical sciences and appreciate best practices for the interdisciplinary contributions, teamwork and functional processes of the range of instrumentation that is demonstrated.
Access to JoVE is available to the academic community both on-campus and remotely via the authenticated VPN connection.
For further information, please contact Julia Gelfand, Applied Sciences & Engineering Librarian (x44971 or jgelfand@uci.edu).