Special Collections Collaborates with Art Class on Artist Books
A unique collection of artists' books made by undergraduate students was on display in the Special Collections and Archives lobby exhibit cases from December 11 – January 31, 2014. The thought-provoking exhibit titled, A Meditation on Plagues, was an outcome of a collaboration between Special Collections and Professor Antoinette LaFarge's fall quarter art class, Design for Print.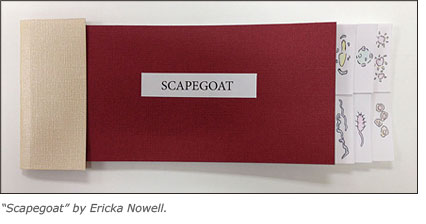 For their final class project, LaFarge's students were required to create a small book in the chapbook tradition as a personal meditation on the subject of plagues. They attended an instruction session put on by Steve MacLeod, Public Services Librarian in Special Collections and Archives. He shared examples of artists' books with a range of book structures to familiarize the students with the variety of options they had in constructing the books for their project.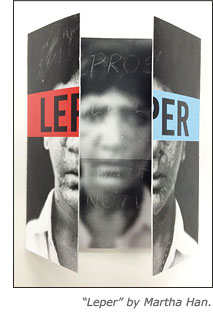 "The underlying thought was to create a collection in honor of International AIDS Day 2013, addressing this important disease obliquely through the ancient trope of the plague," said Professor LaFarge. "Most of the students had never made a book before or worked with print design software, but they approached the project with enthusiasm and flair. They took up a wide range of subjects, from historical plagues like syphilis and leprosy to plague-like outbreaks of mass hysteria. They experimented with the form of the book, creating accordion books and foldout books in addition to western codex-style booklets, looking in each case for a physical structure that would complement their book's theme."

"I was delighted to collaborate with Professor LaFarge on this exciting project," said MacLeod. "The students' work was outstanding and we were very pleased to display it in our lobby exhibit cases for a number of months. I truly enjoyed being a part of their learning experience."
Special Collections & Archives is actively building a collection of artists' books in Special Collections and Archives. Dating from the 1960s to the present (over 600 volumes to date, many of them published after 1990), the collection encompasses nearly all aspects of the genre from "normal" published works to altered, sculptural, painted and unique books. The collection has three major foci: works by and about women; works that explore contemporary American politics; and works produced in Latin American countries.
For further information about class presentations in Special Collections &Archives, please contact Steve MacLeod, Public Services Librarian in Special Collections and Archives (x44967 or smacleod@uci.edu).