New Exhibit in Special Collections and Archives: Ward Ritchie and Laguna Verde Imprenta
Ward Ritchie (1905-1996) may have been the greatest printer, book designer, and printing historian from Los Angeles in the 20th century. A new exhibit in Special Collections and Archives tells the story of his Laguna Verde Imprenta, and the unique and beautiful books that he produced in the last phase of his life.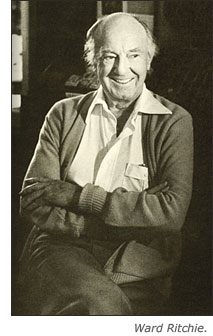 Ward Ritchie grew up in Los Angeles and graduated from Occidental College. He briefly attended law school at USC, but became interested in printing and book design after meeting Gregg Anderson in 1928. He read Cobden-Sanderson's Journals and became impressed with his bindings at the Huntington Library, as well as the books of the Kelmscott Press and the Doves Press. Ritchie was strongly influenced early on by the great French artist/engraver/printer Francois-Louis Schmied. By studying examples of fine printing by others, Ritchie was able to teach himself the basic elements of book design, and he then attended the Frank Wiggins Trade School in Los Angeles for a semester to gain technical knowledge. He began printing in 1929, and left the next year for a four-month apprenticeship with Francois-Louis Schmied in Paris.

Upon his return to Los Angeles and after a brief job with bookseller Jake Zeitlin, Ritchie's career as a printer started in earnest. In his long and distinguished career, he designed, printed and published hundreds of books for the Primavera Press, Anderson & Ritchie, the Ward Ritchie Press, and Anderson Ritchie & Simon, where he retired in 1972.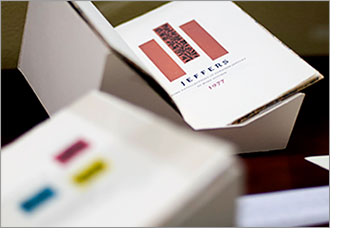 Upon retirement, Ward Ritchie and his second wife Marka Detrick moved to Laguna Beach.
Ritchie bought an 1835 Albion hand press and had it moved to his studio in their home in Emerald Bay. He began printing small editions of books under the press name Laguna Verde Imprenta. He chose books that he liked and enjoyed, this was not primarily a commercial venture. He wrote many of these books, often about friends the he knew. His motivation was purely fun. Ward Ritchie printed twenty-six books, and a wide variety of broadsides and other ephemera with this press, most were printed on dampened, handmade papers.
The Libraries' copies of Ward Ritchie Laguna Verde Imprenta books are in the Special Collections and Archives' Fine Press collection, which consists of fine, private press, and limited edition books, as well as reference works about printers, publishers, and the book arts. The collection is particularly strong in works by California printers and publishers.
The Ward Ritchie exhibit will be on display through April 25th in the Special Collections & Archives lobby on the 5th floor of Langson Library Room 525.
For further information about the exhibit or the Ward Ritchie Press collection, please contact Public Services Librarian Steve MacLeod. (x44967 or smacleod@uci.edu).