Data Librarian Daniel Tsang Receives Distinguished Award
The Libraries are delighted to announce that Daniel Tsang, Data Librarian for the UCI Libraries, has received the William H. Flanigan Award for Distinguished Service from the Inter-university Consortium for Political and Social Research (ICPSR).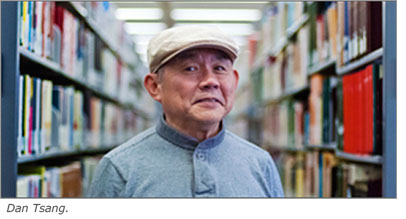 ICPSR, the largest social science data archive in the United States, presents biennial awards to individuals who have distinguished themselves in their service to the social science community. The Flanigan Award for Distinguished Service as an ICPSR Official Representative is intended to acknowledge the contributions of individuals representing ICPSR member institutions.
Tsang is a Distinguished Librarian at UCI, where he has served as ICPSR's Official Representative since 1986. In that role, he helps UCI faculty, students and staff access and use the multidisciplinary datasets available for data analysis.
Tsang's association with ICPSR at the University of Michigan dates back almost four decades. He first attended ICPSR's summer program in 1974 while he was a University of Michigan graduate student in political science, and after graduating from library school at Michigan, he worked at ICPSR's data archive.
At UCI, he also serves as a bibliographer for political science, economics and Asian American Studies. He has chaired the UCI Libraries' Data Team, served on a campus committee assessing e-research needs of faculty, and is the liaison to the UCI Office of Research on research data management. He runs UCI's Social Science Data Archive which offers selected datasets, including those archived from ICPSR by UCI researchers, for online data analysis. He also is the UCI administrator for California Digital Library's Web Archiving Service.
He was the first data librarian to be named as a Fulbright Scholar in 2004 (in Vietnam), where he researched the data situation in that country. He has published and presented internationally on research data management and access.
The previous 16 Flanigan Award recipients have included data archivists and data librarians at UCLA, UC Berkeley, Yale, MIT, and Alberta.