History of American Fashion on Display in Workshop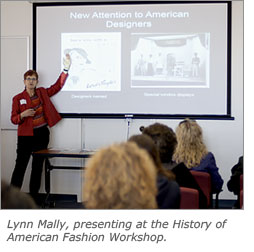 What historical developments helped shape the distinctive American look in fashion for women? On February 21st, the Partners of the UCI Libraries presented an informative workshop on the subject led by Lynn Mally, UCI Professor Emerita of History, an expert on the history of fashion. To view and listen to a recording of the presentation please click here.

Although Paris claimed to be the center of the fashion world, already at the beginning of the twentieth century American women were beginning to develop their own style. Mally's talk covered the period from 1900 to the present and focused on how American designers and manufacturers created a distinctive American look.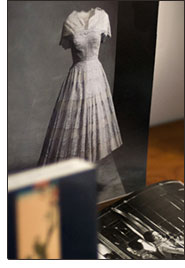 Mally paid special attention to the influence of Southern California designer, Irene Saltern Salinger, and the importance of her archive in the Libraries' Special Collections and Archives. Salinger was a Hollywood fashion designer in the late 1930s to early 1940s, an originator of coordinated women's sportswear separates in the 1950s, and a fashion designer into the late 1970s. The Libraries acquired the Irene Saltern Salinger papers in 2011 and the collection is a treasure trove for fashion historians and lifelong learners. The collection was donated by Salinger's son and daughter-in-law, Tom and Lynda Salinger, who attended the workshop.

Guests had the opportunity to view a number of items from the Salinger collection as well as other archival materials from the Libraries' Special Collections and Archives. Mally also highlighted the Libraries' rich digital resources on fashion, in particular, the Vogue archive, a searchable archive of American Vogue, from the first issue in 1892 to the present. Mally discussed how both archival and digital resources can be used by scholars and lifelong learners.
The program was part of the Libraries' Intersections workshop series that offers instruction on a variety of fascinating topics for intellectual enrichment and enjoyment.
For further information about library events, please contact Julie Sully, Acting Director of Development (x44658 or jsully@uci.edu).