Message from the University Librarian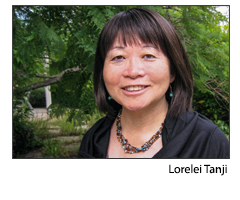 It has been said that "while students may not graduate with degrees from the Libraries; they certainly can't graduate without them."

This was the message I wanted to share, to the guests who attended the UCInsights event entitled, "UCI Libraries: Gateway to Knowledge", on March 16, 2015.

UCInsights is a biannual event, hosted in conjunction with the UCI Foundation, to showcase leading edge research, innovations, and academic advancement across the campus. The UCI Foundation's "Gateway to Knowledge" helped shine a light on the dynamic role of the academic library of the 21st Century.
Guests were treated to a three-part tour of our Libraries, the themes of which were, "Explore. Discover. Advance." The tour stops highlighted both UCI's Bright Past and Brilliant Future as guests visited Special Collections and Archives to view curated material from the University's 50th Anniversary Archives, to visit the newly opened OC & SEAA (Orange County and Southeast Asian Archive) Center, which showcased material from our Regional History Collections (dating back to the Mission period) including materials from our Southeast Asian Archive---a particular strength of our collections. Guests also learned about the innovative services and research resources that continue to keep the Libraries at the forefront of discovery, the lifeblood of the campus, and, quite literally the "Gateway to Knowledge."

We also debuted our new promotional video on the UCI Libraries in honor of the University's 50h Anniversary. You may view it below:



Lastly, each of the three sections of our "Gateway to Knowledge" tour is readily available to be presented again to students, faculty and staff. We invite you to contact Charla Batey, Communications and Events Officer at cbatey@uci.edu, for more information on this programming.
Sincerely,

Lorelei Tanji
University Librarian