New Online Tools Help Students Find the Services They Need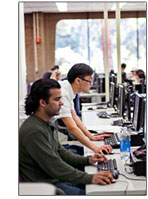 The Libraries have developed two online tools to assist students in finding up-to-the-minute information on available study space on campus and computers in the Libraries. Both are available from desktop and mobile Libraries' websites.

New Study Space Locator

The Study Space Locator tool allows students to easily find places to study on campus that meet their particular requirements. A filter allows students to identify available spaces by certain criteria such as group study, whiteboards provided, food is allowed, or open late at night.
For further information, please contact Kristine Ferry, Head of Access Services (x40474 or kferry@uci.edu).

New Computer Availability Tool

The Computer Availability tool helps students locate available computers in the common areas of the UCI Libraries. In the past students have often had a difficult time locating available computers, especially during finals and midterms. The new tool eliminates that issue by providing continually updated information on the number of available computers along with the total number of computers on each floor of the four UCI Libraries' buildings.
For further information, please contact Adrian Petrisor, Director of Information Technology (x42075 or petrisor@uci.edu).