Ready, Set, Zot! UCI Athletics Since '65 Exhibit Opens to a Packed House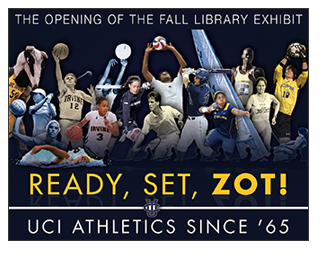 Over 150 guests attended the opening of UCI Libraries' 50th Anniversary Exhibit, Ready, Set, ZOT! UCI Athletics Since '65 on September 28, 2015. Head Coaches Russell Turner (Men's Basketball), Julie Brooks (Women's Golf), Dan Klatt (Women's Water Polo), and Mike Gillespie (Baseball) participated in an engaging panel discussion moderated by Mike O'Sullivan, UCI Sports Announcer.

In a wide ranging and honest exchange, the coaches discussed the success of their teams, the challenges of recruiting and playing in Orange County and Southern California's incredibly competitive environment, and their vision and hopes for the future. Klatt, an Olympian who played water polo at UCI, referred to his return as coach as "a homecoming." Turner described the sentiment of going to the NCAA Division I Basketball Championship "big dance" as a "we" feeling that united the UCI community. Brooks noted her athletes' dedication to excellence on the course and in the classroom, a characteristic she praised in all UCI student athletes.
Often marked with humor and good-natured jabs at each other, panel members spoke of UCI as a home and a family where commitment to team success trumps big egos, and dedication to "grinding it out" achieves impressive results.

The panel discussion took place at the Crystal Cove Auditorium in the Student Center. Peter the Anteater and the UCI Spirit Squad then led attendees to Langson Library for a reception and exhibit viewing.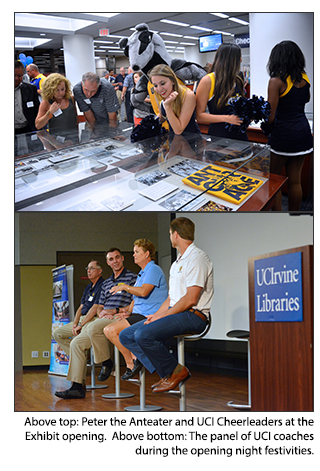 Dozens of photographs and documents from the UCI Athletics and Physical Education Department records, which University Archives acquired in February 2015, highlight the achievements and milestones of the twelve varsity sports in UCI's history: swimming, sailing, crew, water polo, basketball, volleyball, soccer, baseball, tennis, golf, track and field, and cross country. Trophies, game balls, and championship rings on loan from UCI Athletics bring team triumphs to life. Visitors to the exhibit will learn Peter the Anteater's back story, and be touched by the unwavering student support for athletics shown by the cheer squad, band, and passage of the 1999 student referendum which raised student fees designated for UCI's sports teams.

The exhibit, which runs until April, 2016, can be viewed during regular Langson Library hours. Contact co-curators Laura Uglean Jackson, University Archivist at lugleanj@uci.edu or Cathy Palmer, Libraries' Head of Education and Outreach at cpalmer@uci.edu for more information or a personalized tour.
Your stories about UCI's sports history are important, too! If you have a story to share, visit

http://50th.lib.uci.edu/