UCI's 50th Anniversary: Libraries' Week-at-a-Glance
UCI Libraries had a strong presence in support of anniversary activities during the week of September 28 through October 3, 2015.

Exhibit Opening: The week started off with opening of the Libraries' Fall Exhibit highlighting numerous photographs and artifacts from the past 50 years of UCI Athletics.

Dr. Patrick Hanratty '77 Interview: The UCI Alumnus and Father of CAD-CAM, shared stories of his time as a UCI graduate student in Information and Computer Science. He enjoyed reuniting with Shakespeare's 1623 "First Folio," and the first edition of Edwin Abbott's Flatland: A Romance of Many Dimensions, both which he had previously donated to the Libraries.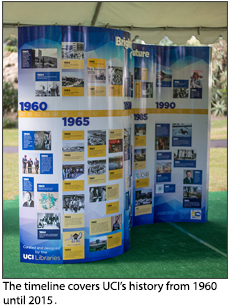 Founders' Day: Staff from Special Collections & Archives, captured oral histories of twenty UCI community members including founding faculty, members of the charter class, and former staff and administrators. The UCI Stories compilation video also debuted at the program held in Student Center's Pacific Ballroom.

Festival of Discovery: The Libraries were honored to showcase the UCI Stories compilation and a 50th Anniversary timeline in the "Bright Past. Brilliant Future." pavilion. The timeline includes photos from UCI Libraries Special Collections & Archives and UCI Strategic Communications Image Archive.

The UCI Stories collected during the Founders Celebration will be made available on the Online Archive of UCI History in the near future.

The 50th Anniversary timeline will be permanently housed in the Newkirk Alumni center lobby.
For more information on the Libraries' involvement in UCI's 50th Anniversary please contact Charla Batey at cbatey@uci.edu or x44658 or Audra Eagle Yun aeyun@uci.edu or x42263.