The Libraries Welcome New UCI Graduate Students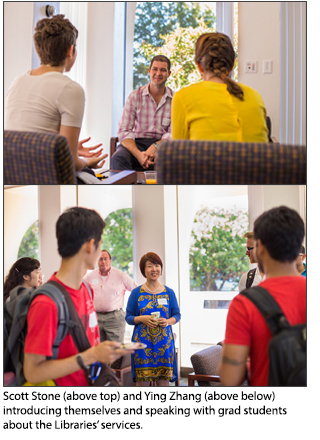 Enthusiastic new graduate students and the experienced and knowledgeable subject librarians who serve their disciplines, enjoyed a lively orientation and reception in the Holden Faculty & Graduate Student Reading Room at the Langson Library on Friday, September 24, 2015. Nearly 60 students and librarians took advantage of the chance to talk about topics ranging from the Libraries' extensive collections to students' research interests and the Libraries' capabilities to support data curation and preservation.

Students representing the diverse fields of study at UCI flowed through the doors beginning at 3:15pm. An aspiring political scientist chatted with the Head of E-Research and Digital Scholarship Services about his focus on water issues. A Chemistry student talked animatedly about her previous research on proteins. Two students talked about pursuing graduate degrees to open doors to new careers - one who formerly worked for a startup and is getting a masters as a launching pad to running his own startup, and another in education who had worked in the medical field and wants to focus on STEM education.

The steady vibe of conversation halted briefly as Dana Peterman, Head of Collection Development at the UCI Libraries, took a few moments to welcome attendees and encourage the new students to be sure to get to know their subject librarians. In turn, other librarians introduced themselves and described their subject expertise.

This annual event is co-sponsored by the Libraries' Public Services and Research Resources divisions.