Return of the New Swan Shakespeare Festival Seminars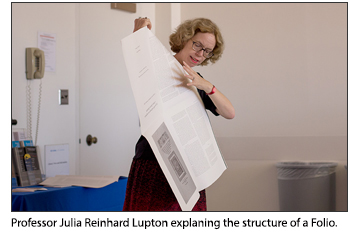 On August 7 and 14, Professor Julia Reinhard Lupton presented two sessions of the First Folio Fridays, co-sponsored by the UCI Libraries, the School of Humanities, and the New Swan Shakespeare Festival. The first session focused on Macbeth, the second on Much Ado About Nothing.

After being introduced by John Renaud, Associate University Librarian, Research Resources, Professor Lupton shared her knowledge and insight about the First Folio--its significance, and how that significance has changed over time.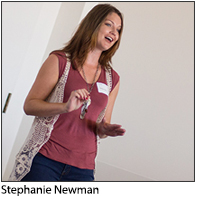 Stephanie Newman, a graduate of the UCI MFA in Drama program, then read Macbeth's letter to his wife to applause and appreciation by the audience.

In the 2015 season of the New Swan Shakespeare Festival, Stephanie played Beatrice in Much Ado About Nothing and Lady Macbeth in Macbeth. Guests then were lead to the Special Collections & Archives Reading Room, where Professor Lupton and Steve MacLeod, Public Services Librarian in Special Collections & Archives, showed the First Folio, other editions of Shakespeare, and related materials.
On Friday, August 7, 2015, special guest Robert Cohen, founding Chair of the UCI Drama Department and renowned Shakespeare director, also spoke on "Where Are You Setting It? Shakespeare on the Stage in the 21st Century." He traced the development of staging and costumes in modern design from the mid-20th century to the current time, including events at UCI that were part of this development.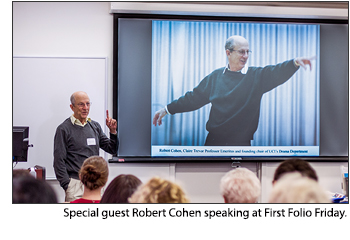 In this presentation, Professor Cohen shared that when he entered Yale as a graduate student "there were only four Shakespeare festivals in the world. Today there are 344 Shakespeare festivals in the United States alone. There are 118 festivals abroad. The world is full of Shakespeare!" He stated that, for that reason, as well as our obsession with the new and novel, it is important to see fresh staging's of Shakespeare. Professor Cohen and his wife and recently returned from the Avignon Theatre Festival in France, where they saw two great productions of King Lear and Richard III. He concluded his talk by sharing photographs of the amazing staging and costumes in these productions.

The two First Folio Fridays provided greater context for the two plays presented this summer by The New Swan Shakespeare Festival Company. We will continue this tradition next summer!