Significant Donation Received for East Asian Collection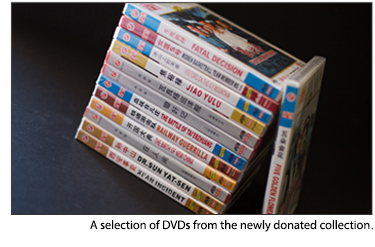 The Libraries have recently received a significant donation of over a thousand film DVDs from Beauty Media Group, a Chinese cultural and media enterprise specializing in cinema and television production, audio-visual programming, and other forms of cultural media.

Included in the donation are mainly film DVDs produced throughout Chinese film history, covering two eras: the Republic of China and People's Republic of China. Also in the collection are dubbed East European, Soviet Union and North Korean films that were introduced to Chinese people under Mao's reign.

Many feature films in this donation have high-quality English subtitles, and therefore could be used widely in Chinese language, history and culture classroom settings. Professor Bert Scruggs, a specialist in Chinese films, and his doctoral student, Ying Liu, have already expressed their interest in using films from the donation for teaching and research.

This donation essentially doubles the size of the Chinese film collection at the Libraries, which has been developed over the past 25 years. DVDs donated will be housed at Multimedia Resource Center and made available to campus users.
For more information, please contact Ying Zhang, Research Librarian for Asian Studies, at yingz@uci.edu or x40489.