Preserving the Digital Archives of Prominent Faculty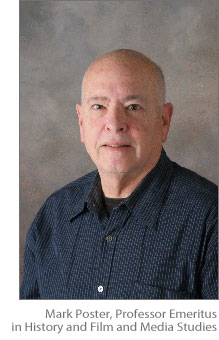 The Libraries has completed a project to provide access to the born-digital files of Mark Poster (1941-2012), emeritus professor in History and Film and Media Studies. First hired in 1969, Poster played a central role in UC Irvine's emergence as a leading center for work in critical theory. He helped launch the Critical Theory Institute, first as an informal reading group and then as a formal research center in 1987. He also served as director in its early years and in 2002 became the founding chair of UC Irvine's Department of Film and Media Studies. He authored or edited more than 17 books and 90 articles on European intellectual history, the social and cultural theory of electronically mediated information, postmodernism, and cultural and critical theory, among other subjects.

Materials include research files, notes, and email correspondence related to Poster's books and other publications, lectures, and work with the Critical Theory Institute. Portions of the digital files are presented as part of the UCISpace @ the Libraries' Virtual Reading Room, which allows limited access to approved researchers.
For more information, contact Audra Eagle Yun, Acting Head, Special Collections & Archives and University Archivist (x42263 or audra.yun@uci.edu).