The "WRITE" Stuff: Information Literacy Assessment of Student Writing
What is "information literacy"?
The American Library Association's Association of College and Research Libraries defines information literacy as "the set of abilities individuals employ when they recognize that information is needed and have the ability to locate, evaluate, and use the needed information effectively."
In other words, an information literate student understands how scholars in a discipline create, share, and preserve knowledge.
Information Literacy Defined
In an effort to determine the Libraries' contributions to student learning and to capture a fuller sense of students' development of information literacy skills, Cathy Palmer, Head of Education and Outreach; Dr. Kevin Ruminson, Assistant University Librarian for Administrative Services; and Dr. Jonathan Alexander, Professor of English and Campus Writing Coordinator, received a Division of Undergraduate Education Assessment Grant to measure the information literacy competencies of first-year students. The first phase of this project focused on the assessment of information literacy levels of incoming students at the beginning and end of their first year. We recently completed the second phase of the project, which focused on an information literacy assessment of papers produced by students in their required first-year writing courses.
Research librarians play a vital role in teaching students how to locate, evaluate and use information effectively, so we were excited to engage in a review of student work in order to see if we could recognize and assess information literacy traits. A team of librarians designed a rubric to be applied to student research papers in order to measure specific information literacy traits. The rubric categories are based on
ACRL's Information Literacy Standards for Higher Education
. Eight librarians used the rubric to assign scores to a total of 73 student papers written in several lower-division writing courses.
In the information literacy trait analysis of student work, papers averaged between 2 and 3 out of a possible 4 for most categories. One of the most consistent low-scoring categories was "range of sources" (avg 2.32). Interestingly, one of the highest scoring categories was "number of sources" (avg 3.86). This implies limited search strategies – students are using many sources, but not a variety of sources. Students also struggled with source/evidence integration (avg 2.48), incorporating multiple points of view (avg 2.17), and using quotations (avg 2.45). These findings confirm earlier work done as part of the Writing Program assessment.
These assessment results will help faculty, course directors, and librarians determine which information literacy skills are most in need of improvement and to develop tools and curriculum to address areas of weakness. Our initial findings suggest trajectories for future research and collaboration with academic departments as we attempt to understand the complexity of information literacy development.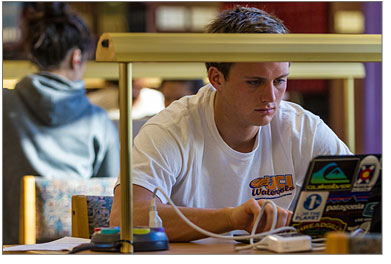 For more information about the Libraries' Information Literacy Assessment Project, or to find out how research librarians can help you teach information literacy, please contact Cathy Palmer, Head of Education and Outreach (x44972 or cpalmer@uci.edu).