Libraries' Debut "Make Citations" Tutorial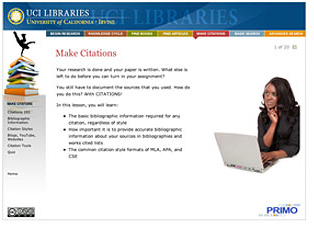 As mentioned elsewhere in this issue of Update, several research librarians recently completed the second phase of an Information Literacy Assessment which included a review of papers produced by students in their required first-year writing courses. This may not come as a surprise to faculty, but one of our striking findings was that students lack a basic understanding of what information to include as part of a bibliographic citation. Students consistently failed to include enough information that would allow their readers to locate the sources that they used in their papers. In an effort to address this lack of understanding, the Libraries' Department of Education and Outreach designed a short tutorial that highlights the importance of writing accurate citations. In this lesson, students learn:
Did you know?
Students can sign into the Libraries' Begin Research tutorial and send a certificate of completion to their professors at the end of each module.
The basic bibliographic information required for any citation, regardless of style
How important it is to provide accurate bibliographic information about their sources in bibliographies and works cited lists
The common citation style formats of MLA, APA, and CSE
The "Make Citations" lesson is available here and is part of the Libraries' ACRL PRIMO: Peer-Reviewed Materials Online award-winning Begin Research tutorial.
For more ideas on how to use the Libraries' Begin Research tutorial with your students, contact Cathy Palmer, Head of Education and Outreach (x44972 or cpalmer@uci.edu).