UC Irvine Libraries Announce Winners of 2012-13 Library-UROP Fellowship Awards
What do undergraduates Adrienne Nguyen, Deborah Lewis, Kenneth Lai, Y. T. Nguyen, Natalie Badalof, Linh Le, and Amerita Khoshoo all have in common? Their research projects investigating subjects as diverse as second-generation Vietnamese Americans and the historical memory of the Vietnam War, America's first Jewish orphanage, the letters of H.P. Lovecraft, influences on the Chinese Revolution, the letters of Brooks Farm, the rise of Hatsune Miku, and the legends and legacies of Hiram Bingham, Henry Steele, and Indiana Jones are the 2012-13 winners of the competitive and prestigious Library-UROP Fellowship Awards.
The Libraries are particularly pleased by Adrienne Nguyen's project, "Second-Generation Vietnamese Americans and the Historical Memory of the Vietnam War," which was inspired by archival materials located in the Libraries' Southeast Asian Archive.
The UCI Libraries, in cooperation with the Undergraduate Research Opportunities Program, sponsor the LURF Awards as part of a campuswide effort to encourage and promote undergraduate research. Co-funded by the Libraries' Nellie Ansley Reeves Award Endowed Fund and UROP, the LURF Awards provide up to $500 per proposal to encourage completion of the project. In addition to their faculty mentors, LURF Fellows have the opportunity to work closely with a research librarian who is a subject expert in the student's field of inquiry.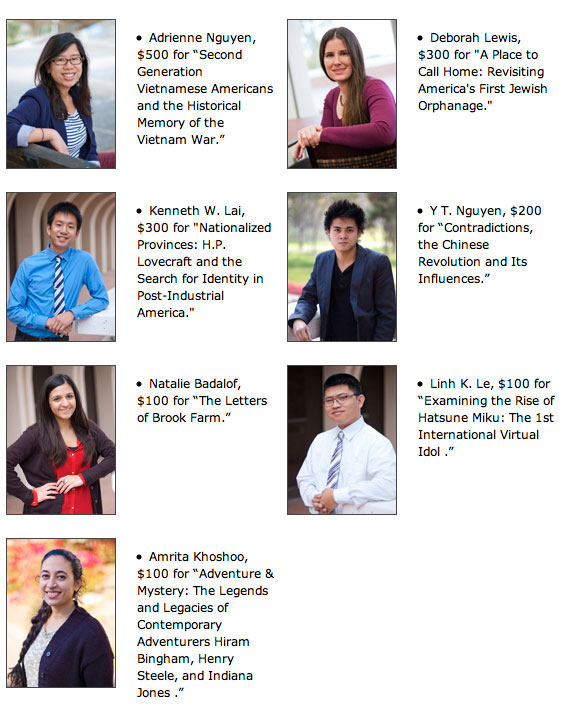 All UROP proposals are reviewed by a panel of librarians and submissions are awarded on the basis of how well student researchers demonstrate:
Unusual depth or broadness in the use of library resources and collections, including, but not limited to, printed resources, databases, primary resources, and materials in all media
Extraordinary ability to identify, locate, select, evaluate, and synthesize library resources and to use them in the creation of a project in any medium that shows originality and/or has the potential to lead to original research in the future
Demonstration of significant personal knowledge in the methods of research and inquiry
The winners of the 2012-13 Library-UROP Fellowship Awards illustrate the diversity of projects that the Libraries have selected for recognition.
To learn more about the UCI Libraries-Undergraduate Research Opportunities Program (UROP) Research Fellowship Awards (LURF), visit the Libraries' website: https://www.lib.uci.edu/about/projects/urop/undergraduate-research-opportunities-program.html
For more information, contact Cathy Palmer, Head of Education and Outreach (x44972 or cpalmer@uci.edu) or Brian Williams, Research Librarian for Criminology, Law, and Society (x40473 or brianrw@uci.edu).