Learn About James Cook's Amazing Third Voyage
The Special Collections and Archives Exhibits Program has the primary goal of educating the UC Irvine campus and community users about our collections and their research and teaching potential. Our exhibits include scholarly resources that are both visually engaging and intellectually stimulating. Exhibits directly support campus scholarship, research, and culture, and to the extent possible, have direct links to other campus academic events and programs.
The new exhibit, "The Amazing Third Voyage of Captain James Cook," includes rare and illustrated books related to Cook's important last voyage. The exhibit will be on display June 21- December 23, 2013. The next exhibit "Ward Ritchie and Laguna Verde Imprenta" (January - June, 2014) will be on the books of the hand press printer and publisher Ward Ritchie (1904-1996), who spent his last years in Laguna Beach.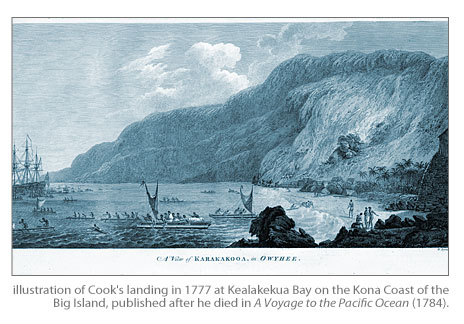 Past examples in the exhibit series include:
Material from our very strong Dance Collection
The early books of artist Ed Ruscha
A selection of photographs taken of Jacques Derrida, presented in tandem with the 3rd Derrida Today Conference held at UCI
Highlights of the archival collections documenting the history of Lesbian, Gay, Bisexual, and Transgender (LGBT) movements and life in Orange County
An exhibit on the books of San Francisco fine press printer and publisher, Jane Grabhorn, and her Jumbo Press and Colt Press
The exhibit area is located on the fifth floor of Langson Library, near the entrance to the Verle and Elizabeth Annis Reading Room, and is open Monday – Friday, 8am-5pm.
For more information, contact Steve MacLeod, Public Services Librarian for Special Collections and Archives (x44967 or spcoll@uci.edu).