Word is Out: the Vietnamese American Oral History Project Makes News
Plenty of community-based projects are created primarily, if not exclusively, for academics, and they find out about them through their usual, subject-specific channels. In contrast, diverse press coverage of the Vietnamese American Oral History Project (VAOHP) has brought this new database to a much desired wider audience.
The VAOHP, which was highlighted in the Spring 2012 issue of Update, has caught the attention of local, national, and international media. In October 2012, the Associated Press featured an article by Amy Taxin: "Vietnamese-Americans Try to Save Elders' Stories." Her story highlights the need to record and preserve these stories, as the first refugees are growing old and passing away. It was picked up by the Los Angeles Times and other news outlets.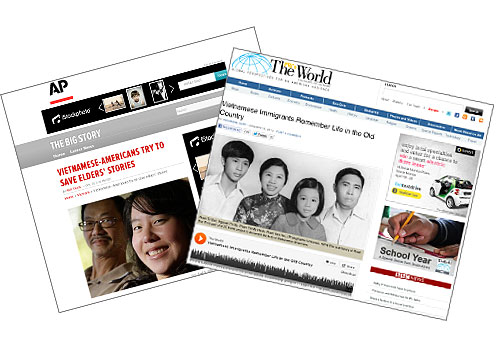 In January 2013, PRI's The World (from the BBC, PRI, and WGBH) aired "Vietnamese Immigrants Remember Life in the Old Country" by Ruxandra Guidi. She wrote of her visit to the "Vietnamese American Experience" class taught by VAOHP director, Dr. Thuy Vo Dang. In this course, AsianAm 151D, students learn how to conduct an oral history with an older Vietnamese American and then prepare the audio recording, transcript of the interview, time log summaries, and photographs of the narrators for deposit in the VAOHP database.
The Vietnamese language media have also included stories about the VAOHP, including encouraging narrators—subjects—to make appointments with its staff and volunteers to record their life stories. Little Saigon TV (LSTV) interviewed director Vo Dang in the UCI Libraries' Southeast Asian Archive to learn more about the project. To view/read their conversation and more stories about this ongoing project, see the VAOHP blog.
Collections are meant to be used, so this preservation and dissemination project with the VAOHP values the publicity and connection to the Vietnamese American community in Southern California. The Libraries' partnership with this growing collection of life stories is rich in primary sources for anthropologists, historians, filmmakers, sociologists, and others. Reading the transcripts and hearing the refugees' and immigrants' voices of life in Vietnam, their complex journey to the U.S., their transplanted lives—and often their parents' and siblings' experiences, as well—reveals the diverse backgrounds of a complex community. More oral histories are added every month, and access is free and open to everyone.
For more information about this project, see the VAOHP site and contact Christina Woo, Research Librarian for the Southeast Asian Archive (x44974 or cjwoo@uci.edu).