Changing Spaces: Langson Library Upgrades and Renovations
The Libraries continue to adapt our library spaces to match the needs of our student and faculty users. During this academic year, we are focusing on upgrading a variety of spaces in Langson Library.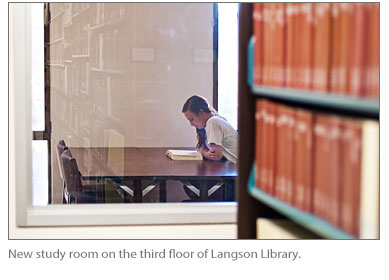 For years, students have requested group study spaces in the Langson Library and we are now beginning to meet that need. On the 1st floor we constructed a large group study space/library instruction room and on the 3rd floor, we converted eight offices into small group study rooms. Students are already studying, researching, and writing in these new study spaces.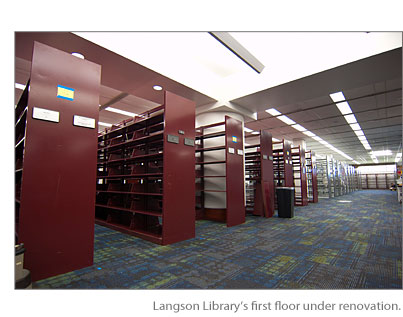 A larger project involves further renovations to the 1st floor of Langson Library. We will be relocating much of the seating to the Aldrich Park side, which provides great natural light and beautiful views of the park. We will also be installing additional electrical outlets to accommodate the use of laptops, tablets, and other mobile devices. In an effort to relieve space pressures, we will be adding new shelving for collections. In addition, new paint and new carpet will create a more attractive and pleasant environment on the 1st floor.
Finally, we are improving services to our users by renovating the restrooms throughout the building. The Langson Library receives over 800,000 visits each year and the restrooms are some of the most heavily used on campus. Through a partnership with the campus we have installed water-saving fixtures in all Langson restrooms and are now updating the tile, paint, and other elements to make visitors more comfortable.
We know these changes will affect many of you, and we request your patience and understanding as we move forward on these projects.
For more information, contact Kevin Ruminson, Assistant University Librarian for Administrative Services (x44440 or ruminson@uci.edu).