Visual Bookmarking with Pinterest
The UC Irvine Libraries are now on Pinterest! Pinterest is a virtual pin board where users can organize images and videos found on the web.
Key terminology used with Pinterest:

What is a Home Feed? The home feed is a collection of pins from pinners and boards you follow. It's updated every time someone you follow adds a pin.
What is a board? A board is where you organize your pins by topic. Boards can be secret or public and you can invite other people to pin with you on any of your boards.
What is a pin? A pin is an image added to Pinterest. A pin can be added from a website using a Pin It button, or images can be uploaded from a computer. Each pin links back to the web site it came from.
What is a repin? A repin is adding an image found while browsing Pinterest to your own board. When an image is repinned the user who first pinned the image will receive credit. Repins maintain the source-link of the image no matter how many times it is repinned.
The Libraries' Pinterest page has boards for locations, services, tools, resources, top ten libguides, Grunigen Medical Library, Special Collections, library exhibits, and videos. Here are some examples:

Services: Research Consultation Service, Ask a Librarian, Course Reserves, Interlibrary Loan, etc.
Tools: VPN, LibX, Subject Guides, Find an Article, etc.
Resources: library tutorials, e-Journals A-Z, articles by citation, etc.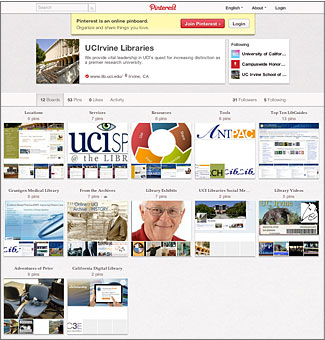 Providing library resources and services via Pinterest allows users to pin individual items to their boards or even create a library-related board. Pins created by the Libraries link back to original content on the Libraries' website.
Create a library board today and start adding pins that you find useful or interesting! For more information, contact Danielle Kane, Research Librarian for Emerging Technologies and Service Innovation (x42024 or kaned@uci.edu).