New Orange County & Southeast Asian Archive (OC & SEAA) Center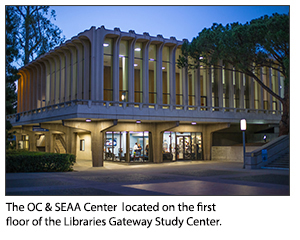 The Orange County & Southeast Asian Archive (OC & SEAA) Center opened on January 21, 2015 as a part of the University of California, Irvine (UCI) Libraries. The OC & SEAA Center will provide both physical and virtual spaces for intellectual discovery and innovative research for UCI faculty and students and the community at large.

"The UCI Libraries are honored to open a new space that is optimized for instruction, outreach, programming, and research on our remarkable region, changing demographics of Orange County, and the Southeast Asian American experience in the region," says Lorelei Tanji, University Librarian.

Located facing UCI's Aldrich Park, on the first floor of the Libraries Gateway Study Center, the new center will house the circulating and reference materials from the UCI Libraries current Southeast Asian Archive,. The center will also be home to a growing collection of regional history resources. Archival and rare materials related to the center will remain in Special Collections & Archives located on the fifth floor of UCI's Langson Library.
"The new OC & SEAA Center offers research resources and expanded engagement opportunities for student and local community groups," states Thuy Vo Dang, Archivist for the Southeast Asian Archive & Regional History

A unifying theme of the center is diversity. The OC & SEAA Center will provide a collaborative space with services and resources to guide users seeking to document and study the history of the Orange County area and its demographics.

"As UCI celebrates its 50th year, and we move forward as a major educational institution, creating spaces like the OC & SEAA Center on campus, is vital towards our leaders, students and community members joining forces to advance diversity scholarship and communications," states Prany Sananikone, UCI Director of Diversity Relations.

Researchers come to the UCI Libraries seeking historical information on events, groups and individuals, as well as tools for creating new sources of information. The new center seeks to become an incubator for digital scholarship, data analysis, digital humanities, video and oral histories, and other interdisciplinary projects based on the region.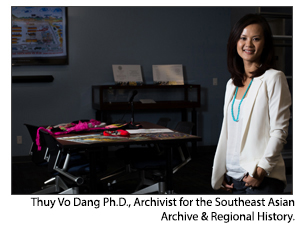 "As a proud community partner and supporter, we look forward to embracing the new center as a place to discover the rich history of the region and to study Orange County's changing demographics, so that we can serve as better stewards of diversity in the community," says Jack Toan, UC Irvine Alumni Association Board Member and Vice President at Wells Fargo.

A grand opening celebration will be held on May 13, 2015 in partnership with the UCI Chancellors Club to include special guest speakers, a ribbon cutting and dedication, cultural performances and more. Private media and community tours are available upon request . The OC & SEAA Center is open Monday through Friday from 1:00-5:00 pm.