Exhibit Exploring Critical Theory at UCI Opens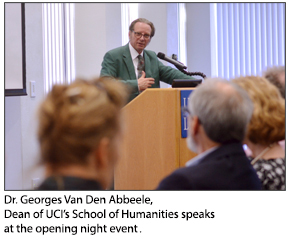 Thursday evening, April 9th, 2015, Dr. Georges Van Den Abbeele, Dean of UCI's School of Humanities, opened the UCI Libraries' spring exhibit, Through Discerning Eyes: the Origin and Impact of Critical Theory at UCI. Dean Van Den Abbeele celebrated UCI's exemplary contribution to critical theory research and teaching, both in the United States and abroad.

"We recognize the value of this exhibit as part and parcel of the 50th anniversary of the founding of UC Irvine as an institution where critical theory has been key to the intellectual development and reputation of the campus," observed Dean Van Den Abbeele, "it might also be remarked that it is roughly the anniversary of the seminal Johns Hopkins conference on 'The Languages of Criticism and the Sciences of Man' better known by its published title, The Structuralist Controversy."
Dean Van Den Abbeele continued, observing that "The 50th anniversary of the Hopkins conference is thus linked to our own 50th anniversary of UCI's first graduating class, by the crucial role critical theory has played in supporting UCI's growth and international reputation."
These two important anniversaries, the Dean demonstrated, have more in common than perhaps many might realize. As Dr. Van Den Abbeele noted, "One of the organizers of that conference, Eugenio Donato, became an early faculty member at UCI, and a key builder of strengths in Critical Theory. As did David Carroll, who served as a Graduate Student Assistant at the conference, before coming to Irvine until his retirement recently in 2010. In addition J. Hillis Miller was also a key organizer of the event, and speakers included Jacques Derrida, both later to have distinguished careers here at UCI."
To close his presentation, Dean Van Den Abbeele took comments from faculty, emeriti, staff, and students, many of whom shared their own memories and experiences with both the Critical Theory Emphasis and Critical Theory Institute. Some audience members also shared their vision for the future of critical theory and the study of theory at UCI.

"Something that I think is important and I hope we can revive is the internationalization of the Critical Theory Institute," Chancellor's Professor of Comparative Literature Gabriele Schwab remarked, adding that she also hopes for increased collaboration across schools and disciplines at UCI.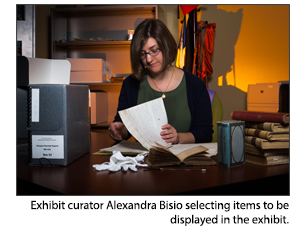 UCI's focus on critical theory continues into May as the School of Humanities and UCI Libraries co-host the First Annual Critical Theory Institute Conference. Participants in the conference will have the opportunity to tour the exhibit with curators Alexandra Bisio and Dr. Matthew Roberts, as well as a special tour of the Critical Theory Archive. To learn more about the conference visit the UCI Humanities Commons website.

Through Discerning Eyes: the Origin and Impact of Critical Theory at UCI will be on display in the Langson Library's Muriel Ansley Reynolds Gallery through mid-September 2015. An audio recording of the opening night presentation is available.
Small group tours are being offered to those interested in taking a closer look into the exhibit. For more information please contact Sheree Baugh at sbaugh@uci.edu or (949) 824-4651.