Art+Feminism Wikipedia Edit-a-Thon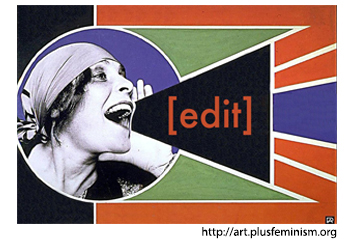 On March 7, 2015, the UCI Libraries hosted an Art+Feminism-themed Wikipedia Edit-a-Thon, which gathered students, faculty, librarians, and members of the community to learn how to edit Wikipedia, one of the world's most consulted websites. The Libraries provided computers, access to research resources, instruction in best practices, and refreshments to the twenty participants.

The UCI Libraries' event was one of many Edit-a-Thons organized though the Art+Feminism campaign during the weekend of International Women's day, and the only one in Orange County. Through worldwide participation, an estimated 400 new articles were written on women in the arts and another 500 articles were improved during the event.

Professor Jesse Jackson and his wife Genevieve Scott came to the event for a specific goal: Scott's mother Gail Scott was a well-known Canadian journalist, television personality active in the later twentieth century--yet there was no representation of her accomplishments on Wikipedia. At the Libraries' event, Jackson and Scott learned Wikipedia editing procedures and protocols and crafted the entry for Gail Scott from scratch; they were also able to crosslink the new article to related Wikipedia articles and entries.

As a hub for critical thinking about information landscape, the Libraries is proud to have fostered learning moments among the student participants. One related that "The thought of being able to change and contribute information to something so vast and expansive is a reminder that as individuals, we have a certain amount of power that we otherwise probably didn't think we had." Another declared that the activity "has opened my eyes to the possibility of actually being a part of the internet, instead of just being someone who uses what it provides."

The event was organized by Kelly Dohaney, MFA Candidate in Art in the Claire Trevor School of the Arts (CTSA), and Emilee Mathews, Research Librarian for Visual Arts, with invaluable assistance from Brian Williams, Research Librarian for Criminology and Psychology and Ian Meares, MFA Candidate in Critical and Curatorial Studies, also at CTSA. Several Wikipedians from the surrounding area volunteered their time to instruct and assist participants: Dr. Mel Ganus, Rocco Petrongolo, and John Francis.
To learn more about Wikipedia Edit-a-Thons or partner with the UCI Libraries to host one on campus, please contact Emilee Matthews, Research Librarian for Visual Arts at 949-824-6672 emilee.mathews@uci.edu.